Over the years here at Ionic Industries we've come across many different models of electric toothbrush, particularly from Braun Oral-B. These are some of the less common models we have seen that aren't already covered in our toothbrush battery replacement guides section:
Vitality Sonic – Type 3737
Pulsonic Slim – Type 3716A
Pulsonic Classic- Types 3722 and 3723
Advance Power – Types 4713 and 4716
Philips Sonicare PowerUp – HX3100 series including HX3110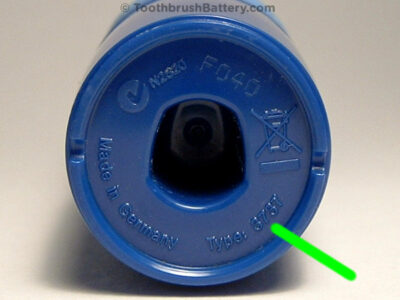 Below are some hints on how to open these toothbrushes and replace their internal rechargeable batteries.
The Vitality Sonic can be opened by putting the brush on its charger and twisting it anti-clockwise a quarter of a turn. The base cap of the Advance Power 4713 and 4716 also needs to be twisted but by using a flat metal bar or the bottom edge of its charger between the notches in the rim of the handle base.
The Pulsonic models have a screw holding the base cap in place, and once the cap's removed you can release the catches and slide the insides out. Be aware that the original Pulsonic Classic models had Li-ion batteries rather than the lower voltage Ni-MH batteries used in the Slim version. Ni-MH batteries for the Pulsonic Slim are available from us here.
With the Sonicare PowerUp insert a large flat-head screwdriver in the centre of the base cap and turn it anti-clockwise a quarter of a turn. You can then pry the cap out and release the clips holding the innards in place using a smaller flat-head screwdriver. Batteries for the Sonicare PowerUp are available from us here.
If you need further hints on changing the battery in these models or any others just ask us in the comments section below. Likewise, please tell us your tips and experiences with these brushes and other models!