Please have a look at one of our free toothbrush battery replacement guides by choosing from the list below or menu above. See further down this page for tips on identifying your toothbrush.
Can't find a guide for your toothbrush? Take a look at our Other Models blog post for tips or to make a request for a full guide for your brush!
Identifying your Electric Toothbrush
The best way to identify the model of your toothbrush is using the "Type" number for Braun Oral-B toothbrushes, or the "HX" number for Philips Sonicare toothbrushes. The number is marked on the bottom or back of the handle, for example: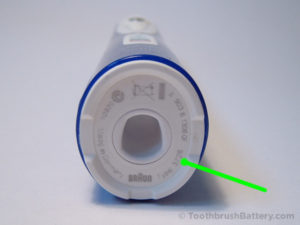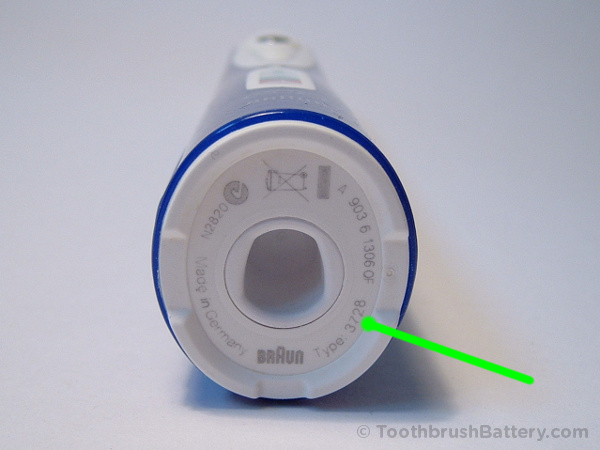 This is the easiest way to identify Braun Oral-B toothbrushes because, confusingly, Braun Oral-B have used the same various marketing and model names over the years across the whole range of toothbrushes they have produced including Professional Care, Pro, AdvancePower, PlakControl, SmartSeries, DeepSweep, Denta-Pride, Black, White, Sensitive Clean, TriZone and TriAction. They have coupled these names with various model numbers marked on the packaging including 450, 500, 550, 600, 650, 700, 800, 900, 1000, 1500, 2000, 3000, 4000, 4750, 5000, 5500, 5550, 6000, 6500, 7000, 7400, 7500, 7550, 7850, 8000, 8300, 8500, 8850, 8900, 9000, 9400, 9500, 9900 and 9950. These bear no consistent relation to the type of toothbrush they have been used to describe. To further confuse us, there are often type numbers marked on the packaging and in the instruction manuals which are different to those marked on the toothbrush handles themselves!