Some of the more "luxury" models of electric toothbrush made by Braun/Oral-B come with a small wireless display called a SmartGuide. The SmartGuide displays your progress as you brush, showing how long you've been brushing, which quadrant of your mouth you should be on, flashing up a warning if you press too hard and rewarding you with a smiling face when you've finished 🙂
However, due to the damp environment that the SmartGuides are used in they are prone to internal corrosion which eventually stops them working. The good news is that a faulty SmartGuide can (often) be repaired!
If you are looking for a new Smart Guide display unit because yours is lost or beyond repair then take a look at our Smart Guide compatibility guide to help you identify which variant you require.
We were going to write this as a full guide to go with our electric toothbrush repair guides but as it's a less involved process a blog post should suffice.
The Type 3741 Oral-B Smart Guide
There are two versions of the Smart Guide – the original Type 3741 and the later more oval-shaped Type 3742. This repair guide shows you how to repair the Type 3741.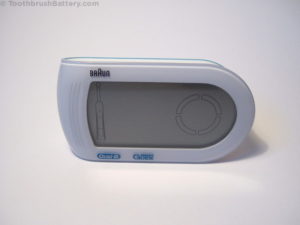 The blank display of the SmartGuide could just be an indication that the batteries are flat. If you haven't already done so, try replacing them with two new alkaline AA size batteries to see if that brings it back to life. Alkaline batteries are recommended and you can usually get a pack of 4 in your local pound shop – just don't be tempted by that pack of 12 zinc batteries! Zinc batteries only have a quarter of the capacity/life of Alkaline batteries and they don't have the punch to run some devices correctly.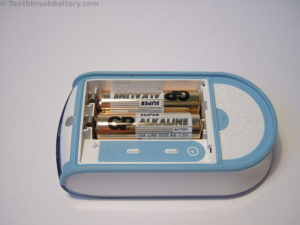 Check that the battery contacts are clean and free from corrosion at both ends. If they are corroded then clean them up by scraping with a sharp knife, rubbing with dry rough tissue or a cotton bud (q-tip) soaked in alcohol.
No joy from changing the batteries? Well it's time to open up that SmartGuide and get cleaning! This is the earlier type 3741 SmartGuide so if you have a later, smaller model then the opening procedure is different.  Undo the screw in the end of the casing using a T-8 size Torx screwdriver. These specialist screwdrivers are available through our secure online shop here if you don't already have one in your toolkit – T-8 Torx screwdriver.
You can now start to pull the casing open. It is held together with some quite strong clips.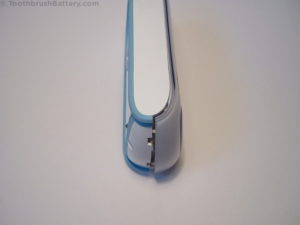 Work your way along the casing using an appropriate lever such as a guitar pick, blunt pallette knife or spudger. Be careful not to damage the plastic casing.
Once you've separated the two halves remove the PCB from the case.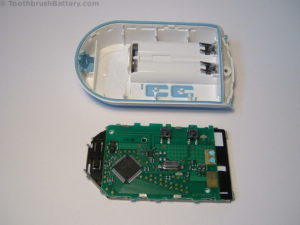 You can see the corrosion on the gold PCB pad (above) and on the corresponding sprung contact legs.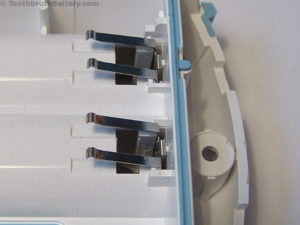 Remove the corrosion on the legs and the PCB and assess the damage. We carefully scraped at it with a sharp knife and finished with a cotton bud soaked in isopropyl alcohol. On this Smart Guide the corrosion on the PCB had eaten all the way through the metal on the pad.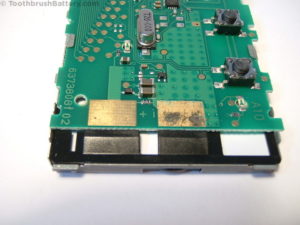 This means that to create a good connection the sprung contact legs need to be bent sideways (together) so that they touch a different part of the pad when reassembled.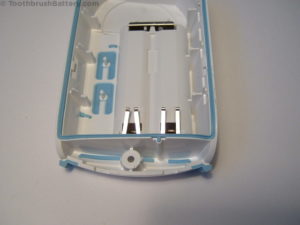 If you're feeling adventurous perhaps some silicon grease on the contacts will slow down future corrosion. Once you're happy, clip the casing back together, insert some batteries and hopefully your SmartGuide will spring back into life.
Don't forget the screw!
If your Smart Guide still refuses to work after trying to repair it as above then take a look at our page showing where to buy a new Smart Guide.
We also publish repair guides for the toothbrushes themselves, so when the battery inside your electric toothbrush is no longer holding much charge take a look at how to replace it in our battery replacement guides section.