We have been asked several times about options for charging your electric toothbrush from a 12V DC supply as available in cars, caravans, RV's, boats, yachts, etc. for when you are travelling or living off-grid. You can read the various options in the article below.
The USB toothbrush charging option
One option is to use a USB powered toothbrush charger. You can then use an in-car USB adapter to convert 12V DC from the lighter socket to a 5V USB connection to power the toothbrush charger: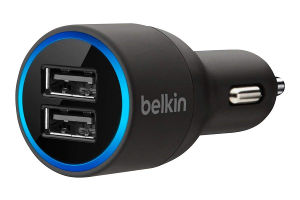 There are various 3rd-party USB powered chargers for both Philips Sonicare and Braun Oral-B toothbrushes available through the links below, though we have no experience in how reliable they are or how well they work: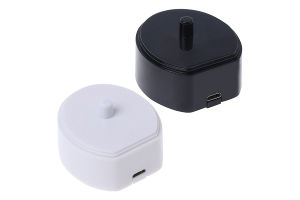 The second option is to use an official charging travel case from either Braun (for Oral-B toothbrushes) or from Philips (for Sonicare models), as described below.
Braun Oral-B charging case
These charging cases are supplied with some of the Genius range of toothbrushes and allow your toothbrush to be charged while stored in the case. They are available in black, white or white/rose gold, with part numbers 81574166 (black), 81574167 (white) and 81621558 (white/rose gold). These are available through the links below the photo. Many Oral-B electric toothbrushes will fit into these cases as the Genius brushes are quite large (total length of toothbrush without brush-head is approx. 204mm).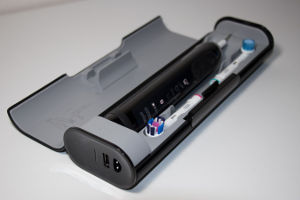 The charging case uses a separate mains power supply, which has a rated output of 12v DC at 400mA (click to enlarge photo of power adapter):

After buying the case you can wire it up to your 12V supply for toothbrush charging. You will need to find a suitable connector, or cut the connector off the official charger, or solder wires internally/externally to the input socket. Below is a photo showing the polarity of the input plug. Click to enlarge the photo: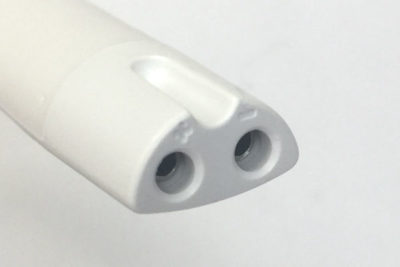 Please let us know in the comments section if you can measure the diameter of the connector pins. Perhaps a trimmed down female Tamiya type connector would fit? Or simply get the mains adapter at the same time as the charging case and chop the cable in half to use the plug and wire it into your vehicle. An in-line fuse of around 500mA would be a good idea too.
Philips Sonicare charging case
Sonicare charging travel cases are available in various colours. These are powered by USB.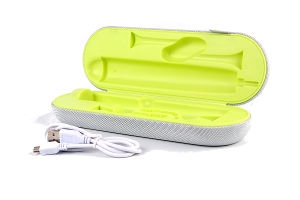 See our separate Sonicare Charging Case page here.
The cases appear to have a standard USB-mini input socket so a standard 'USB to USB mini' cable should fit the case if it is not supplied with one.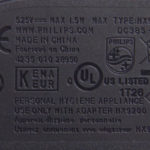 Let us know in the comments section below how you get on, or if you have any other solutions for 12V toothbrush charging!