Continuing on from the first page of battery replacement instructions for the Braun Oral-B Professional Care Type 3754 and 3756, we will remove the battery compartment and trim out the plastic stoppers so that a full length 49mm battery can be fitted. Please support us in writing these guides by buying your 49mm replacement battery from us here.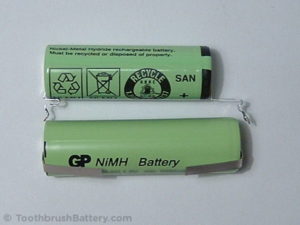 Lifting the plastic tabs (arrowed below) over the metal tabs slide the battery holder off the metal chassis of the handle.
The four splines down the inside of the holder, plus the central stub (all arrowed below) need to be trimmed off with a knife.
Once you have shaved all the plastic down check that you can slide your replacement battery right up to the end.
Bend both the solder tags on the 49mm battery to the same pattern as the negative tag on the original by bending them over the tip of the screwdriver to get tight bends.
Trim them to the same height as the originals using the scissors. Very carefully start to narrow down the width of the negative terminal solder tag by first snipping into the tag from the side. Don't try to cut into it half way in one go, just try to cut a quarter of the way in from the side and it will tear to half way. Careful not to cut right through! Then cut down from the top end to remove the piece. You will see (below) the top left piece of the solder tag removed below, which is easier then trying to trim it from both sides and it will still line up with the circuit board.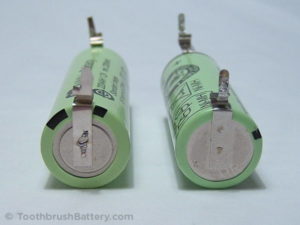 Trim the positive solder tag to match the original in the same way.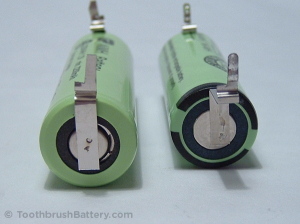 Test fit the battery in the holder then reassemble the holder into the handle.
Refit the new battery and slide the circuit board in to make sure the tags line up.
Once you're happy with the aligment click below to move on to: